Continuing competence implementation
How Graham Coffey & Co Solicitors have adopted the approach
Stuart Snape, Managing Partner at Graham Coffey & Co Solicitors, explains how they have implemented our new approach to continuing competence.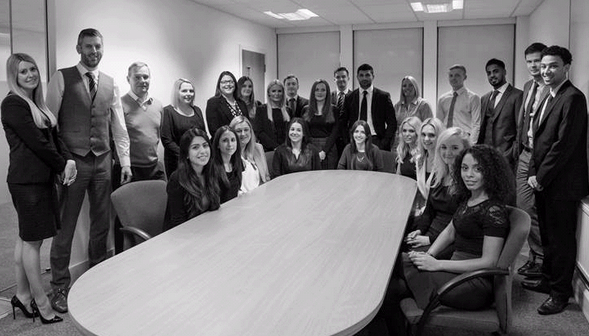 Stuart Snape (second from left) and colleagues
Who are you?
I am Managing Partner in a Personal Injury / Civil Litigation firm – 38 employees of which 28 are file handlers. Only 12, as qualified solicitors, were subject to compulsory CPD requirements.
What changes have you made to implement your approach?
The first change is to appreciate that it is in the firm's interest to stop seeing CPD as something "only for solicitors" or a "box to be ticked".
I recognised the value of continued training for all staff and the fact that years of CPD had desensitised many firms from the benefits on training.
Change number 1 – see that training staff is good for business.
So change number 2 – don't differentiate between qualified staff, unqualified staff, senior staff, junior staff etc.
Change number 3 was to find a way of creating low cost – in house – training that can be disseminated to all staff quickly and efficiently. Too often training is seen as getting your staff into a room and reading slides or handouts. Even where post training quizzes were carried out there was a real reluctance to sit and see who had passed etc. The answer was to use on-line training software which enables you to develop on-line course with post course questionnaires that automatically confirm whether the test has been passed. Staff are automatically invited to take part in the course, they view the content on-line and then go through the on-line testing procedure.
Each month the software confirms who has passed and who hasn't. The reality is we don't want anyone to fail so we can set the test so that it can be taken again and again until they pass but at the same time was can see who has struggled and focus any additional training where it's needed.
The on-line approach avoids draining fee earning time allowing the staff to train when it's convenient.
What was/is the biggest challenge in adopting the new approach and how have you overcome it?
The biggest challenge was finding training material that was bespoke to the nature of our work and the way our particular firm operates. The simple way to overcome this is to write the course /material ourselves. This enables us to focus on the specific knowledge needed to work within OUR firm safely and to the benefit of the client.
Often generic courses focus theory – they are so detached from actual working methods that they don't really improve an employee's skill set. By creating your own on-line course material you can make the staff better at what they do as well as increasing their general knowledge.
What advice would you give other solicitors about implementing this approach?
Try and ignore the way in which CPD used to work. It was outdated and led to staff attending irrelevant courses just to pick up points. See it as an opportunity to improve not just the skills of your staff but your understanding of the strengths and weaknesses of your team.
As a Managing Partner creating the training material also helps to focus my mind on the direction the firm is taking and how I can take the staff with me. Too often I would make changes to our system of work without really verifying that staff fully understood the reasons for it. I can now do this with the in-house material.