Annual Review 2013/14
11 December 2014
The Annual Review provides a summary of our key areas of success over the last twelve months and sets out key regulatory outcomes and performance data for the financial year November 2013 to October 2014.
Chair's foreword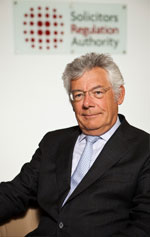 2013/14 has been another period of significant change for us at the SRA. We have achieved a great deal in the last twelve months. Early on in the year, we established the "Training for Tomorrow" programme as a mechanism for delivering significant change in our approach to education and training. We have already implemented elements of this programme with much more to come over the next few years. Operationally, we have addressed many of the issues we highlighted last year, including improvements to the time taken to authorise Alternative Business Structures and service levels in our Contact Centre.
We have successfully addressed some concerning compliance issues, and our approach to supervision and enforcement also continues to adapt. Through proactive engagement, we have protected clients and prevented costly interventions.
The arrival of Paul Philip as our Chief Executive in February provided us with an opportunity to take stock and reflect on our progress, approach and direction of travel. We did this with the Board in April and it resulted in the publication of our policy statement on regulatory reform in May 2014. In this statement, we clarified the purpose of our regulation and outlined an immediate programme of work designed to:
remove unnecessary regulatory barriers and restrictions and enable increased competition, innovation and growth to better serve the consumers of legal services;
reduce unnecessary regulatory burdens and cost on regulated firms; and
ensure that regulation is properly targeted and proportionate for all solicitors and regulated businesses, particularly small businesses.
We have already made progress and implemented a number of changes designed to reduce the burden of regulation and to encourage competition and growth in the market. Building on our May statement, we decided to produce a new Corporate Strategy for 2014/17 with new strategic objectives, This was published in November 2014, alongside our Equality, Diversity and Inclusion Strategy and our Business Plan for 2014/15. These documents together set out our direction of travel and key priorities over the next three years. Our strategic objectives are to:
reform our regulation to enable growth and innovation in the market and to strike the right balance between reducing regulatory burdens and ensuring consumer protection;
work with solicitors and firms to raise standards and uphold core professional principles;
improve our operational performance and make fair and justifiable decisions promptly, effectively and efficiently; and
work with our stakeholders to improve the quality of our services and their experience when using them.
There is still much more to do to improve our operational effectiveness and efficiency. Key to this will be the delivery of new IT systems over the next twelve months, alongside a better understanding of our end to end processes. Our operating costs have continued to reduce and we are ambitious to continue with the downward trend.
The Independent Comparative Case Review looking at how the SRA has dealt with disciplinary cases was published in 2014. In our Equality, Diversity and Inclusion Strategy, we set out what we are doing to respond to its recommendations. We consider equality, diversity and inclusion as integral to everything that we are developing and implementing. Our priorities are to focus on:
creating a more diverse organisation and the way in which we work together;
the way we operate, our rules and the decisions we make, the impact that has on those we regulate, and helping firms and individuals to understand and comply with our requirements; and
working with those we regulate to support them in achieving a more diverse and inclusive profession.
Similarly, our engagement with stakeholders, importantly those we regulate and consumers, is central to our work and the quality of our engagement and consultation activity will continue to be a focus. We have embarked on a programme of cultural change and staff engagement, with new behaviours and values being developed to support the organisational and regulatory changes that are planned.
Given all of this, I am confident that as I step down as Chair of the SRA Board, I am leaving the organisation in a healthy position to face the challenges of the future. Much has been achieved in my tenure and I leave with great optimism that my successor, Enid Rowlands, the Board's first lay Chair, will continue to push ahead with the programme that we have committed to this year. There still remains significant scope for improvement in our relationship with The Law Society and with the statutory framework within which we all operate. I now leave these matters for my successor to take forward.
Charles Plant
Chair, SRA Board
Our progress in 2013/14
This section provides a summary of our key areas of success over the last twelve months. We have made significant advances this year in terms of how we regulate and in improving the operational effectiveness of the organisation.
Regulatory reform
In May we published our Regulatory Reform Policy Statement that set out the guiding principles for our regulation alongside an initial programme of work to take this forward, with more details provided in our Corporate Strategy 2014/17 and Business Plan 2014/15 published in November.
We have already implemented and started work on the following as a result of our Regulatory Reform Policy Statement:
Changes have been made to client residual balances relating to how practitioners deal with client money they are unable to return to clients at the end of a matter, including the processes surrounding the withdrawal of such funds and the basis for distribution to charities. The changes came into effect in October 2014 following Board approval in July 2014.
Amendments have been made to the Accounts Rules. From 31 October 2014 firms holding 100% of client money from Legal Aid agency work were exempt from the requirement to obtain an accountant's report, only qualified reports will need to be delivered to the SRA and the structure of the report format will be revised.
The annual "Keeping of the Roll" exercise which means that those solicitors without a practising certificate, who wish to remain on the roll, will no longer need to apply and pay a fee every year.
Following consultation in May and June, the Board agreed changes in September to the policy on the regulation of non-reserved legal activity within Multi-Disciplinary Practices (MDPs) to enable competition and growth the market. In October we licensed our first MDP under the new approach, KPMG.
Following consultation in May and June, the Board agreed in September to the introduction of eligibility criteria for claims on the Compensation Fund so that help is targeted towards consumers who are in most need of financial protection. The criteria will apply to all claims made on or after 1 April 2015 and will be made available on our website, accompanied by guidance for applicants.
We consulted on changes to minimum compulsory professional indemnity insurance in May and June. The Board agreed to make the changes to introduce a new compulsory Outcome in the Code of Conduct to require firms to assess and purchase an appropriate level of insurance cover and to reduce the minimum level of compulsory cover per claim to £500,000. We have not received Legal Services Board approval for the latter of these proposals, but we will continue with our agenda on professional indemnity insurance as part of a wider review over the next twelve months.
We issued a 'call for evidence' to help inform our review of compensation arrangements and wider review of professional indemnity insurance. This work will continue in 2015.
In September, the Board made changes to the registered European lawyer (RELs) regime. The new more proportionate regime for exempt entities owned or managed by RELs and for the individual RELs working in them was the subject of two consultations in April and June.
We prepared a discussion document on our developing approach to regulating small firms. This was published in November. We have already issued targeted guidance on our website for small firms and are providing tailored support via our professional ethics helpline.
The "Training for Tomorrow" programme was already well established before we published our policy statement. The programme is a core part of our regulatory reform agenda and will significantly change our approach to education and training from prescribing processes to assuring outcomes. It has already become a core part of our regulatory toolkit and over the last twelve months, we have achieved the following:
The Board made the decision in May following consultation in March and April to move from the rules based Continuing Professional Development (CPD) requirement to outcomes focused concentration on training to deliver competence, involving the removal of requirement for 16 hours per annum compulsory CPD. A position statement with information about the transitional arrangements for the new approach to continuing competence was published on 15 October 2014 and we are engaging with the profession on the implications of the new approach.
We implemented the first round of the red tape review of education and training regulations in July 2014. This included the removal of: quality assurance processes duplicated between us and QAA; the requirement for student enrolment; the certificate of completion of the academic stage of training; the standard form training contract; and the provision of increased flexibility through a new "equivalent means" route to qualification. We consulted on our proposals in January and February 2014.
We have developed a draft Competence Statement for solicitors and published a twelve-week consultation on the Statement, alongside the associated Threshold Standard and Statement of Legal Knowledge in October 2014. Our proposed new approach is to start by defining the standards we expect of solicitors on qualification and after, as opposed to focusing on the process by which education and training is delivered. The education and training requirements can then be geared to support the acquisition and retention of these standards. This consultation is being supported by a full programme of engagement events.
We have undertaken a further red tape review of the education and training regulations to remove, curtail or simplify regulations and processes which are not in the public interest and which do not reflect the principles of better regulation. This involved: the recognition of Welsh language skills in the outcomes prefacing our education and training regulations as an alternative to English language skills for solicitors practising in Wales; removing requirements for qualified lawyers overseas to have a certificate issued by us confirming their eligibility to sit the Qualified Lawyers Transfer Scheme Assessment (QLTS) and removing the requirement for solicitors to undertake the Management Course Stage one. The consultation was published in September 2014 and the Board made the changes at its meeting on 3 December 2014.
We have begun to work with the Trailblazer group of employers and Skills for Justice to develop a common, centralised assessment which apprentices should take to qualify as solicitors.
Operational effectiveness
We have addressed many of the operational concerns that we raised as areas for improvement last year. Over the last twelve months we have:
improved the timeliness of our process for Firm Based Authorisation. In October 2014, the average age of an open case was just 1.7 months and we have been commended by the Legal Services Board for our work in this area and have also received positive feedback from applicants. We introduced a new application process, supported by guidance and information provided through a variety of tools;
improved and sustained the performance of our Contact Centre. The number of calls answered within 60 seconds over the past twelve months was consistently over our service target level of 70%;
successfully managed the Practising Certificate renewal process for the second year running, reducing the period for doing so from six to four weeks, with little impact on business as usual activity during the October renewal period;
successfully managed supervision and enforcement projects in firms with financial stability issues and also in firms which continued to practise without professional indemnity insurance and / or a practising certificate and in firms that failed to nominate a compliance officer. This work has now been incorporated into business as usual activity;
introduced a new suite of key performance indicators, which are reported to the Board at every meeting. This has matured over the course of the last twelve months as we have developed the performance information that is used by managers to monitor performance and which is presented to the Board to allow them to effectively hold the executive to account;
continued to deliver within budget and planned headcount. We have used £3m of the surplus generated in 2013/14 to fund our 2014/15 activities, thereby reducing the amount required through the PC and entity fees;
we have been progressing with the R-View programme within budget. This programme will lead to changes to our IT systems, which will facilitate a risk-based regulation approach and seamless access to information for better decision-making when they are implemented in 2015;
we have implemented measures to support The Law Society Group to improve the controls environment. Within the SRA, we have developed an operating manual for staff which incorporates key policies and procedures and we have embarked on a programme of communication with senior staff that will be further developed and rolled-out next year. We also continue to monitor compliance through the quarterly self certification survey; and
we have responded to the Independent Comparative Case Review published in March 2014. The key findings of the report for us were that black minority ethnic (BAME) solicitors continue to be disproportionately over-represented at key stages of the regulatory process and that there was no evidence of direct discrimination, including in the individual cases reviewed, in the way we applied our regulatory policies and processes. We have published our Equality, Diversity and Inclusion Strategy alongside our Corporate Strategy to reinforce our commitment to this agenda. This work is being overseen by our Equality, Diversity, and Inclusion Committee, which is recruiting external members as a direct result of the recommendations in the Independent Comparative Case Review.
Our performance and resources
This section sets out key regulatory outcomes and performance data for the financial year November 2013 to October 2014. It also provides an overview of our management of strategic risks and details how we have managed our resources against the agreed budget.
SRA performance
Regulatory activity reports
We continue to publish our regulatory activity reports each quarter. The last report was published in September, with an overview of the year due for publication early in 2015. These reports set out information about our key regulatory processes, including: the types and number of regulatory applications we receive, the number of Alternative Business Structure applications received and processed, the outcomes of investigations and the number and reasons behind the interventions that we have effected.
Operational key performance indicators (KPIs)
We have monitored our operational performance through the KPIs set at the beginning of the year and also reviewed them as our performance reporting matures, with some changes made to the KPI set in January in some parts of the business to better reflect activity. This will continue to be a focus area for us in 2014/15, with the Board agreeing further revisions to the KPI set, which we will begin to report against from November 2014.
We will be reporting publicly on the timeliness of the end to end process of a piece of information coming into the organisation, through our risk assessment processes to Supervision and where relevant, to Solicitors Disciplinary Tribunal referrals. The first set was published in November.
In 2013/14, we had a good year in terms of meeting service targets across the business. We achieved excellent performance across our call centre lines (Contact Centre and Professional Ethics Helpline) and we have also made significant improvements to the timeliness of our Firm Based Authorisation processes. We successfully negotiated peaks in our operational activity, such as practising certificate renewals, which once again ran smoothly this year after some system performance issues in the first week that were quickly rectified by colleagues in Corporate Solutions.
The new Law Society Group finance recording system, created some problems for us in being able to record cost recovery figures in Client Protection which led to delays. However, the money was still being collected and by the end of the year, we were meeting expected targets. Changes to the staffing structure and the recruitment that followed caused at dip in performance against service levels against targets in Adjudication at the start of the year. However, performance improved in the latter part of the year.
Our resources review
Our draft unaudited 2013/14 financial results are set out below, alongside a commentary on the variances against budget.
SRA Draft unaudited financial summary - 31 October 2014
2014 YTD
Draft actual
£000
2014 YTD
Budget
£000
2014 Variance
F/(A)
£000
Regulatory income
£7,514
£5,384
£2,130
Staff expenditure
(£25,375)
(£27,103)
£1,728
Non staff expenditure
(£17,445)
(£25,709)
£8,264
Net SRA expenditure before recoveries
(£35,306)
(£47,428)
£12,122
Compensation fund recoveries
£8,556
£14,037
(£5,481)
Legal fee recoveries
£3,386
£2,500
£886
Total SRA recoveries
£11,942
£16,537
(£4,596)
SRA Net position
(£23,364)
(£30,891)
£7,526
Income
The decision for Student Enrolment to cease in 2014/2015 has resulted in deferred income (student income collected at October 2014, but actually relating to future years) being released at the end of the financial year. Furthermore, Firm Based Authorisation decisions relating to both current and prior years has resulted in additional Alternative Business Structure income being reported at October 2014.
Staff expenditure
Later than expected recruitment throughout 2014, has resulted in a favourable variance on staff costs at the end of the financial year.
Non staff expenditure
There was a lower than estimated number of interventions in 2014, and the absence of any very large interventions, resulted in expenditure being lower than provisioned; by some £5.2m. However as these costs are met by the Compensation Fund, no overall financial saving is reported within our results. A decrease in the volume of external legal cases, as a result of both the introduction of additional legal advisers and also a general fall in the number of disciplinary and litigation cases, resulted in a reduction in external legal fees at October 2014. The timing of R-View activity has been reassessed following the delay in the One-View programme. This has resulted in an under spend of £1.2m in 2014, with work now scheduled for 2015. As a result of internal examination and challenge on costs, a £0.9m contingency reserve was created within the SRA budget. Due to careful management of expenditure, this contingency has not been called upon during 2014.
Compensation fund recoveries
Because our expenditure on intervention related agent and archiving costs has been lower than anticipated, the amount recovered to our budget from the compensation fund is similarly lower. This is a direct result of the lower than estimated number of interventions referred to above.
Legal fee recoveries
The recovery of legal fees is inherently unpredictable. In 2014, we recovered £3.4m costs compared with an expected recovery of £2.5m.