Continuing competence
From 1 November 2016, all solicitors must adopt our approach to continuing competence. This means that solicitors must reflect on their practice and undertake regular learning and development so their skills and knowledge remain up to date. All solicitors will need to make an annual declaration to us that they have done this.
On 9 February 2015, the Legal Services Board approved our application to remove the regulatory requirement on solicitors to undertake Management Course Stage 1. As a result, from the 1 April 2015, solicitors are not required to undertake Management Course Stage 1.
Accreditation schemes
Transfer of voluntary accreditation schemes from the SRA to the Law Society was completed in June 2009. Follow the links below for information about the remaining SRA-administered accreditation schemes: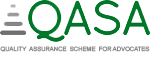 Quality Assurance Scheme for Advocates (QASA)
Registration for the Quality Assurance Scheme for Advocates is suspended until further notice following an application to the Supreme Court by the Claimants seeking permission to appeal the recent Court of Appeal decision. We will issue further information in due course.