How diverse is the solicitors' profession?
Updated 27 June 2023
This overview of diversity in the solicitors' profession covers solicitors and others working in SRA regulated law firms. It is based on the data we collected from 100% of law firms in 2021 and has been updated to include late submissions collected in 2022.
Use our firm diversity data tool to explore the data for yourself.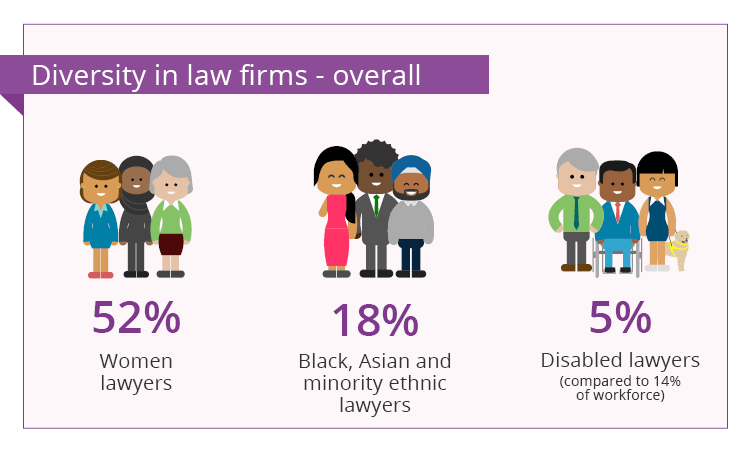 The survey of diversity in law firms carried out in 2021 shows a slow but steady increase in diversity among all lawyers since the last survey in 2019. We are including the 'prefer not to say' responses in our analysis this year. This shows a slight decrease across almost all categories, which is encouraging.
There was an increase in the proportion of women in the profession, and although the seniority gap between female partners and solicitors remains significant, it narrowed slightly.
There was an increase in the proportion of Black and Asian lawyers, but no change for lawyers from a Mixed/multiple group or Black or Other minority ethnic background. There was a slight decrease for White groups.
There was an increase in disabled lawyers. However, there is still significant under-representation of disabled lawyers compared to the UK workforce. These were the only two categories where there was a slight increase in those who preferred not to say.
There is a significant difference in the proportion of lawyers from a 'privileged' background compared to the UK population, based on socio-economic background (determined by parental occupation at aged 14) and attendance at independent/fee-paying schools.
Looking at the differences by firm size highlights significant differences in diversity for the largest law firms (with 50+ partners), compared to the smallest (with one partner), illustrating the real challenges for these large firms in making progress toward diversity.
Women are underrepresented at partner level in firms of all sizes, but to a greater extent in the largest law firms.
The difference in the diversity profile between the one-partner firms and the largest firms continues to grow, with the proportion of partners from a Black, Asian and minority ethnic group more than four times greater in one-partner firms.
The largest law firms have a smaller proportion of disabled lawyers.
The largest firms have the greatest proportion of lawyers from a professional socio-economic background, and those who went to independent/fee-paying schools.
About the data
We collect diversity data from the law firms we regulate in England and Wales every two years. Our most recent collection was in late summer 2021, when 100% of law firms reported their data to us. This represented information from more than 186,890 people working in 9,667 firms.
In collating their data, firms ask their staff to respond to a standard set of diversity questions and then report their overall information to us. In compiling our results, we present information by distinct groups as shown:
All working in law firms
All lawyers
Other staff
Partners (Solicitors who are partners, sole practitioners, members or directors in law firms)
Solicitors (All lawyers who are not partners, including solicitors, barristers, chartered legal executives, licensed conveyancers, patent or trademark attorneys, costs lawyers and notaries)
Other staff (Other fee earning roles, roles directly supporting fee earners, managerial roles, IT/HR/other corporate services roles)
We have set out the key findings for each of the questions asked, including comparisons of the data between firms of different size and work type.
We have changed our approach to reporting data for 2021 by including the 'prefer not to say' data in our analysis. This means that the overall numbers reported last year across all categories will be slightly lower and cannot be compared with the data published in previous years. When we started collecting this data some years ago, we applied recognised modelling techniques to the raw data to predict the outcomes for those who preferred not to say or did not provide a valid response at all.
As part of our commitment to presenting transparent and meaningful information in this important area, and in line with what is now usual practice for many organisations, we have decided that it would be more appropriate to use the raw data and include the 'prefer not to say information', which itself is an important indicator. In this analysis we have drawn any comparison with earlier years based on the raw data for those years.
Key findings by diversity characteristic