In-house solicitors thematic review
14 March 2023
Executive summary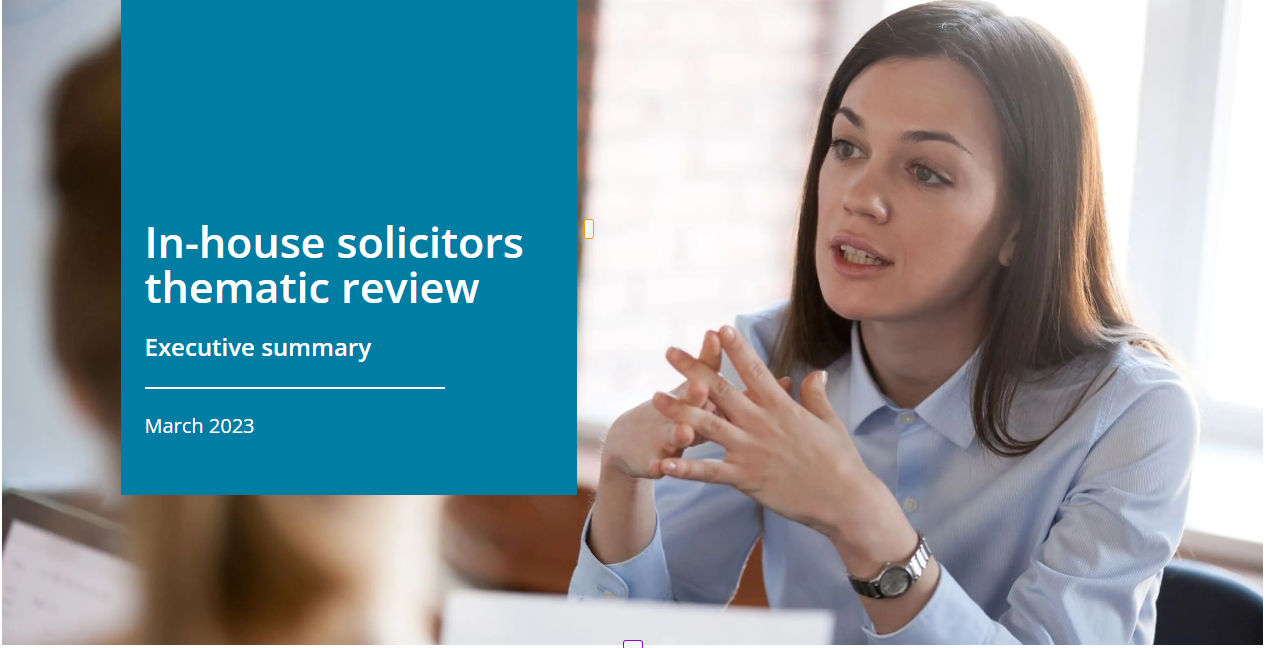 ---
Read summary report into the challenges facing in-house solicitors
More than 34,500 in-house solicitors now work in more than 6,000 organisations across England and Wales in a wide range of industries and public bodies. These range from multinational corporations and government departments to high-street businesses, charities, educational establishments and local health authorities.
This important, influential, and diverse part of the profession plays a key role in helping organisations to behave legally, fairly and ethically.
General Counsel in particular is an important leadership role in organisations. It's a role that often combines both trusted adviser and business partner which helps to drive the strategic direction of organisations. This provides in-house solicitors with even greater opportunities for influence but also presents more challenges.
Recent highly public investigations have highlighted the risks that can arise if the client's best interests are not balanced with the public interest.
Our review showed that most in-house solicitors felt positive about their role in organisations and also felt that their legal function was valued. However, solicitors also highlighted significant political and economic pressures, increasing workloads and challenges in retaining and recruiting talent.
For these reasons, without adequate safeguards and systems in-house teams may struggle to manage conflicting duties and ethical and regulatory risks. They must, therefore, carefully consider how they can deliver organisational objectives while maintaining independence.
Why we did this review
We wanted to better understand the role of in-house solicitors, in particular:
How they support an ethical culture in their organisations
The challenges they face in meeting their professional obligations
How we can help support in-house solicitors.
This report draws on their experiences and highlights where additional support or actions are available or may be needed.
What we did
Considered more than 1,200 survey responses from in-house solicitors (respondents)
Conducted in-depth interviews with in-house solicitors in public and private sector organisations
Met with stakeholders in the in-house sector.
Key findings
We identified these key findings:
1. Safeguarding independence
Overall, in-house solicitors are in a good position to withstand pressures that could affect their ability to provide objective and impartial advice. They reported that their independence was highly valued by organisations as it provided a different perspective when making decisions.
However, we identified that some in-house solicitors may not have the support and internal controls to maintain their independence. This may be particularly risky where the commercial interests of the organisation are not in alignment with regulatory obligations. For example, 5% of respondents had been pressured into suppressing information that conflicted with their regulatory obligations.
Read more about safeguarding independence
2. Managing risks with policies and controls
Our review found many in-house teams did not have dedicated policies and controls to record and report legal risks, manage conflicts and confidentiality or instructions. In several cases there was also an over reliance on 'common practice' to manage regulatory issues.
This could mean some teams are not adequately prepared to spot risks and manage pressures. More positively, we also noted that junior solicitors were well supported by managers and had a good level of awareness of reporting systems.
Read more about managing risks
3. Managing pressures and meeting regulatory obligations
More than two thirds of respondents said demands from colleagues was their biggest pressure (70%). However, most felt comfortable advising their employer they could not take an unethical course of action. They also felt confident they could act ethically under pressure.
A minority had experienced significant ethical and political pressures. This included 10% who said their regulatory obligations had been compromised trying to meet organisational priorities. If the right controls are not in place and pressures are unmanaged, it could lead to unethical behaviour.
Read more about managing pressures
4. Maintaining continuing competence
One in 10 respondents felt they did not have enough time to maintain their continuing competence. We also saw that senior leaders did not always reflect on learning needs and regulatory obligations appropriately.
Interestingly, most junior solicitors self-managed their training and 25% had not received training on professionalism, ethics, or judgment within the past 12 months. All in-house solicitors must make sure they have the opportunity and time to reflect on their continuing competence.
Read more about maintaining continuing competence
5. Ethical leadership and ethical risks
Identifying ethical risks and regulatory challenges could be more difficult for in-house teams when under pressure and without suitable infrastructure that puts ethics firmly on the agenda. However, some senior leaders did not see ethics as important or did not regularly discuss these risks with the legal team.
We also saw examples of in-house solicitors using their influence to champion ethically, socially, and environmentally supportive initiatives. At the heart of this leadership was a feeling of responsibility as the ethical conscience of their organisation.
Conclusion
While the in-house sector is currently facing significant scrutiny, we saw evidence that it adds considerable value to organisations and the wider legal community. It has a unique understanding of its client's needs which helps it to connect the dots between legal advice and ethical leadership. However, it also faces a number of challenges.
Many in-house solicitors described experiencing commercial and political pressures and professional isolation. We were also concerned that in most teams there were some weaknesses in policies and controls which would help them to oversee and identify risks.
In particular, we noted that balancing regulatory responsibilities and independence while safeguarding effective working relationships could be challenging. These challenges may be exacerbated if in-house teams have limited resources and a lack of focus on ethics in day-to-day learning and work activities.
In-house solicitors should take steps to reflect on their approach to identify and manage ethical risks and assess whether they are meeting their regulatory responsibilities.
If there are areas for improvement in-house solicitors should discuss this with employers and explore how they can support the organisation as well as the legal function. Dedicated policies and tailored shared controls will help legal teams and employers to manage these risks together.
Practical help and guidance
We are committed to continuing to support the in-house community. To respond to the issues raised in this review we are developing further resources for in-house solicitors and their employers. These include:
A series of events focusing on key themes and issues for in-house solicitors
New resources on our website for in-house solicitors and their employers
New guidance materials on key areas such as competence and knowing your client.
You will also find some helpful resources and information within this report including:
Next steps and checklists
Case studies
Good practice examples
Information for in-house solicitors and their employers.
Findings